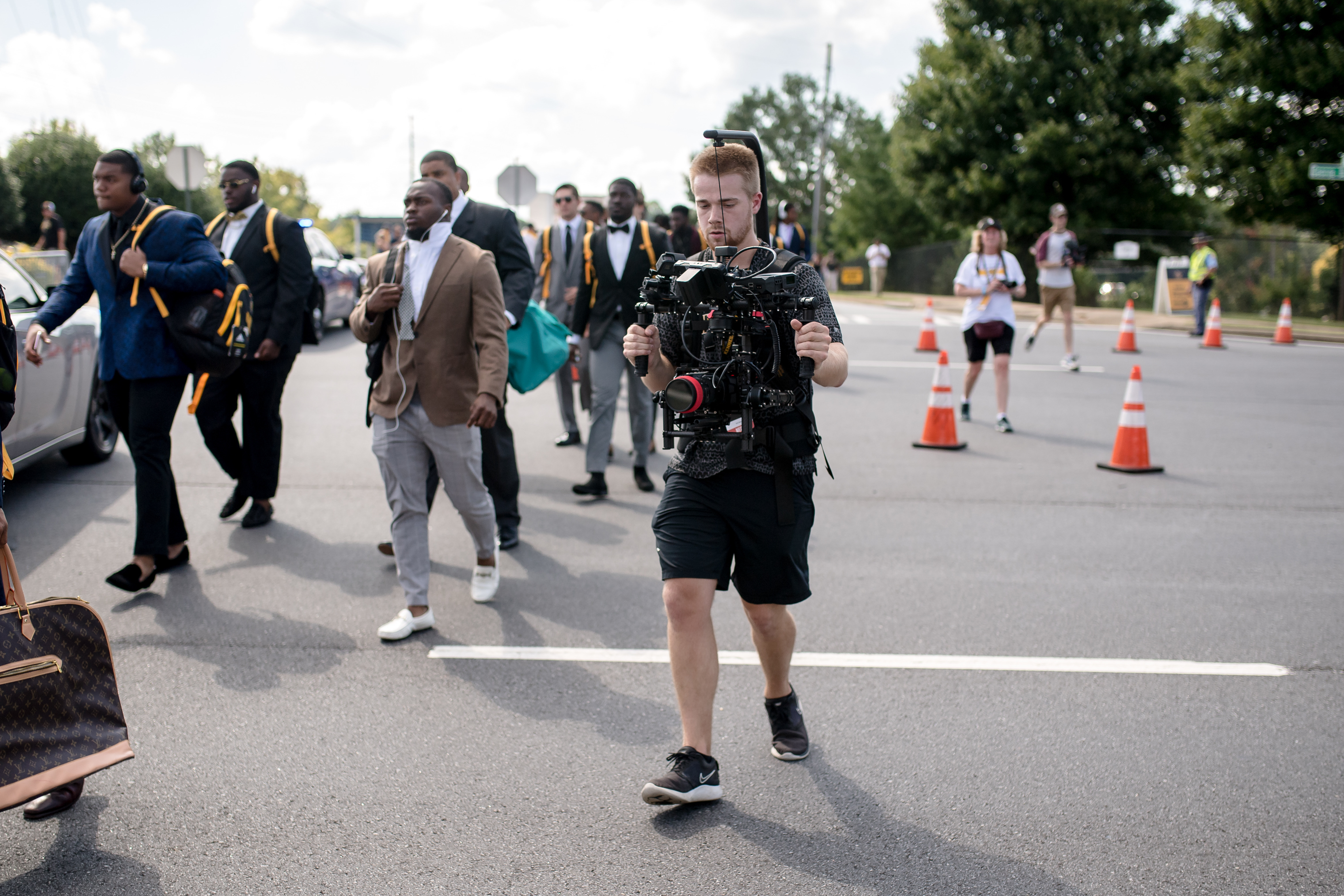 Your Instructor - Eric Deeran
What's up guys! I've run a successful video production company called Deeran Films LLC, deeranfilms.com that has created high quality content and advertisements for sports teams, brands, and corporations for the past 4 years now and generated upwards of 6 figures.
In this course I've condensed everything I've learned while building my business through trial and error (lots of mistakes) to help you quit your 9-5 and make a living running your own video production business.
My goal with this course is provide you with the tools to SELL your video, not just make great looking video.
SELLING and your MINDSET is what is going to take you to the next level in your business.
See you in the course 👋
Who This Is For...

1.
You want to learn how to shoot, direct, & edit cinematic commercials and videos that produce real profits - or you want to learn how to do it better.


2. We start from zero so this can take you from experienced to pro - or if you already have some experience, it can help you sharpen your skills and break through to that next level. 


3. You're willing to put in the effort and work to follow our advice and systems. This program only works if you do. If you want to procrastinate, Youtube is the best place for that...
Who This Is NOT For...
1.
You expect a turn key solution to getting more clients and improving your skills.


2. You are looking for a comprehensive program on paid advertising on Facebook, Instagram, Google, etc.... This program covers the process of creating content and landing clients.


3. You don't care about learning anything new. This program is for people who want to level up as fast as possible by learning from someone who is where they are. 
DISCLAIMER
NOTICE TO ALL CUSTOMERS/USERS OF MASTER FILMMAKER SERVICES AND PRODUCTS: MASTER FILMMAKER DOES NOT HOLD ITSELF OUT AS A POST SECONDARY SCHOOL AND PROVIDES NO EDUCATIONAL STATE CREDITS NOR ANY STATE AUTHORIZED DEGREES OR CERTIFICATES THAT COULD BE USED FOR POST SECONDARY SCHOOL BENEFITS OR ALTERNATIVES OF ANY KIND. MOREOVER THE SERVICES AND PRODUCTS ARE NOT GUARANTEED TO MAKE YOU MONEY.


*Earnings Disclaimer*
I don't believe in get-rich-quick methods and can tell you that starting a video production company is not one. Building a business takes a ton of hard work and dedication in order to be successful. Master Filmmaker is designed to help and guide you through the arduous process of starting a video production business. As stated by law, I can not and do not make any guarantees about your own ability to get results or earn any money with my ideas, information, programs or strategies. I have worked incredibly hard to achieve my results and cannot guarantee you are willing to put in the same amount of work. I'm here to help by giving you my greatest strategies to move you forward, faster. However, nothing on this page or any of our websites or emails is a promise or guarantee of future earnings. Any financial numbers referenced here, or on any of our sites or emails, are simply estimates or projections or past results, and should not be considered exact, actual or as a promise of potential earnings - all numbers are illustrative only.
Results may vary and testimonials are not claimed to represent typical results.These results are meant as a showcase of what the best, most motivated and driven students have done and should not be taken as average or typical results.
You should perform your own due diligence and use your own best judgment prior to making any investment decision pertaining to your business. By virtue of visiting this site or interacting with any portion of this site, you agree that you're fully responsible for the investments you make and any outcomes that may result.
Do you have questions about the Master Filmmaker program? Please email [email protected]